Global Automotive Sunroofs Market: Snapshot
Automotive sunroofs are operable or fixed roof openings with a retractable glass or fiber panel that permits air and light to penetrate the passenger compartment. Automotive sunroofs, which are either manually operated or motor driven, have witnessed vast developments in the past few years and have moved on from being mere a styling feature in premium cars to becoming accessories with numerous applications; rooftops housing solar panels, for instance, are increasingly making appearance in electric and hybrid cars, complementing rechargeable batteries to give vehicles more power to cover extra miles.
Rising income levels of consumers across emerging economies such as India and China have increased the spending capacity of automobile buyers, which is compelling automobile manufacturers to introduce vehicles with an additional aesthetic value. Transparency Market Research estimates that the global automotive sunroofs market was valued at US$4,796.0 mn, in terms of revenue, in 2016. The market is projected to expand at a CAGR of 11.8% during the period between 2017 and 2025 and reach US$12,935.1 mn by 2025.
Get Brochure with Latest Development @ https://www.transparencymarketresearch.com/sample/sample.php?flag=B&rep_id=24101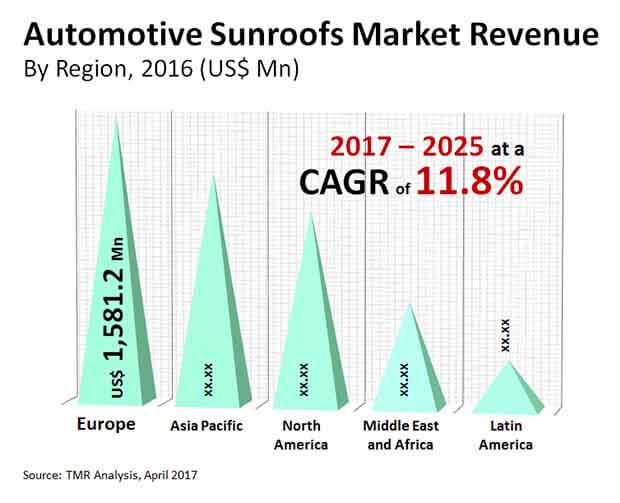 Request Customization @ https://www.transparencymarketresearch.com/sample/sample.php?flag=CR&rep_id=24101
In-Built Sunroofs to Remain Dominant Contributor of Revenue
In terms of the most popular types of sunroof fitted in automobiles, the report segments the global automotive sunroof market into in-built sunroof, tilt and slide sunroof, panoramic sunroof, top-mount sunroof, pop-up sunroof, and solar sunroof. Of these, the segment of in-built sunroof is presently the leading contributor of revenue to the global market. The segment had a revenue valuation of US$1,588.2 mn in 2016 and is expected to retain its position as the leading revenue contributor to the global market throughout the forecast period, exhibiting a promising 11.8% CAGR from 2017 to 2025.
However, the segment of panoramic sunroofs is expected to dominate in terms of growth rate over the forecast period. The rising consumer preference to luxury cars with wider panoramic view will bolster the demand for panoramic sunroofs in the next few years. The segment is expected to exhibit a 13.5% CAGR over the forecast period and reach a valuation of US$2,607.1 mn by 2025.
Contact Information:
Contact
90 State Street, Suite 700
Albany, NY 12207
Tel: +1-518-618-1030
USA - Canada Toll Free: 866-552-3453
Email: sales@transparencymarketresearch.com
Website: https://www.transparencymarketresearch.com